Digital Marketing Strategy
Boost your business with digital marketing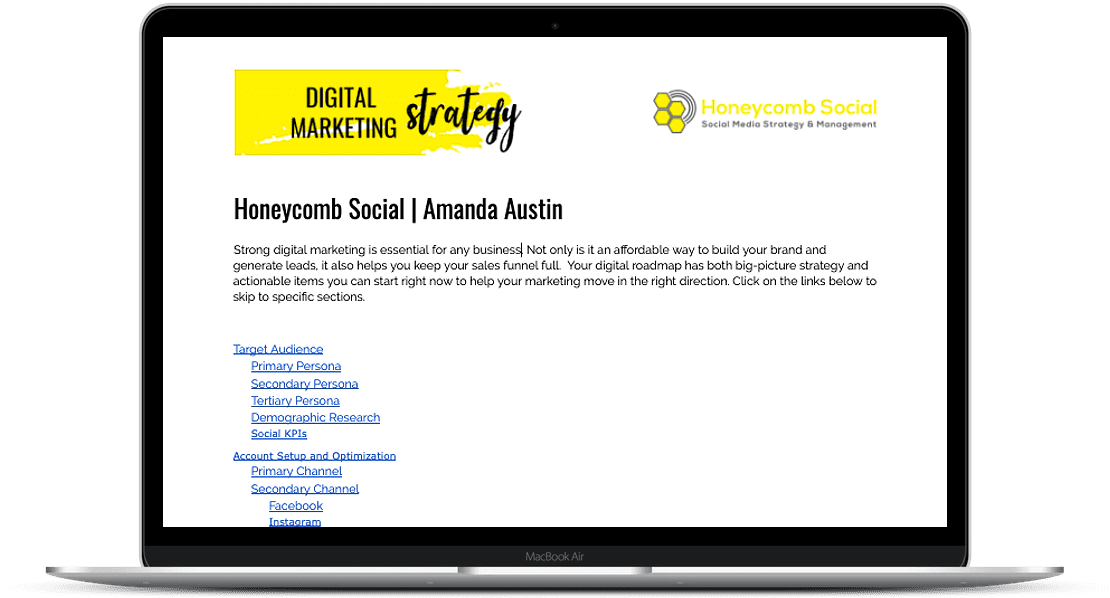 Know, Then GO!
Digital marketing is a powerful and affordable way to reach new levels for your business — but sometimes, its difficult to know where to begin.  My digital strategy gives you everything you'll need to start and scale your business with social media, email marketing, and other digital marketing tactics! 

✔ Facebook always changes! How do I know my page has the right info?
✔I have NO idea what to write on my Instagram profile!
✔ Who the heck should I be talking to?
✔ Where is my NEXT best customer hanging out?
✔ What's an email list?
✔ Where on earth do I begin!!?
"Just tell me what to do!"
When I started working in digital marketing almost 15 years ago, I was overwhelmed by the amount of information available for my DIY-self about digital marketing. The sheer volume of data, as well as the anxiety of having one shot at getting my potential viewers attention (and keeping it!) kept me from moving forward. I just wanted someone to tell me the steps I needed to see results. When I couldn't find that person, I became that person! And now, I want to help you overcome overwhelm and move forward confidently with your digital marketing.
Complete Digital Marketing Strategy
Don't waste time and money on platforms and ideas that don't align with your business! Learn the exact steps to create a digital marketing system that helps you find your ideal client and turn them into your biggest fans.
Put a name and personality to your ideal client
Discover where your future customers are hanging out and what to write to gain their trust
Find out the best times to post on social media to get the best results
Spend less time figuring out what to post on social with custom content plans
Learn your step-by-step plan to completely revamp (or start!) your digital marketing campaign in 90 days or less
What would your business look like with 2x more leads?
Digital marketing is the secret sauce for growing your business. Using social media, email marketing, market research and other digital tools, you'll be able to connect with new customers who are already interested in what you have to offer — without posting randomly and cold calling. More leads means more income, more influence and more opportunity to pursue your business passions. A comprehensive digital strategy helps you do exactly this!
DIgital Marketing Strategy
Target Audience with demographic research

Suggested Key Performance Indicators

Best times to post

Content Mix Examples

Overall Content Strategy

Timeline for 3-Month Plan

Exclusive discount on Honeycomb Social DIY Digital or other services
Pay Now using Stripe, a secure payment gateway. If you're prefer an invoice, please email billing @ honeycombmarketing.co and with "Digital Marketing Strategy" in the subject line.
Secure checkout powered by Stripe