marketing momentum program
Set, forget, and grow!
Introducing the Marketing Momentum Program
A comprehensive marketing audit and marketing system implementation to help your marketing run on autopilot!
Exceed business goals, build your brand, find new customers, and delight your VIPs with a simple, scalable marketing system that practically runs itself. Enjoy more of what you love about your business by spending less time worrying about marketing.
No more marketing guesswork. I'll show you the exact steps customized for your business.
Enjoy more of what you love about your business by spending less time worrying about marketing. Learn the systems that multi-billion dollar businesses use to attract new customers and build trust.
The Marketing Momentum Program solves the two biggest marketing challenges — your own limited resources and marketing overwhelm — so you can focus on what really matters to you and your business. 
Problem 1 – Marketing can be confusing and overwhelming. What really works?
Problem 2 – You don't have time to learn marketing. You have a business to run!
Problem 3 – Outsourcing marketing is expensive and unreliable. 
Problem 4 – No one knows your business as well as you do.
The Marketing Momentum Program cuts out the noise and defines the strategy, platforms, and tactics you need for YOUR company to thrive.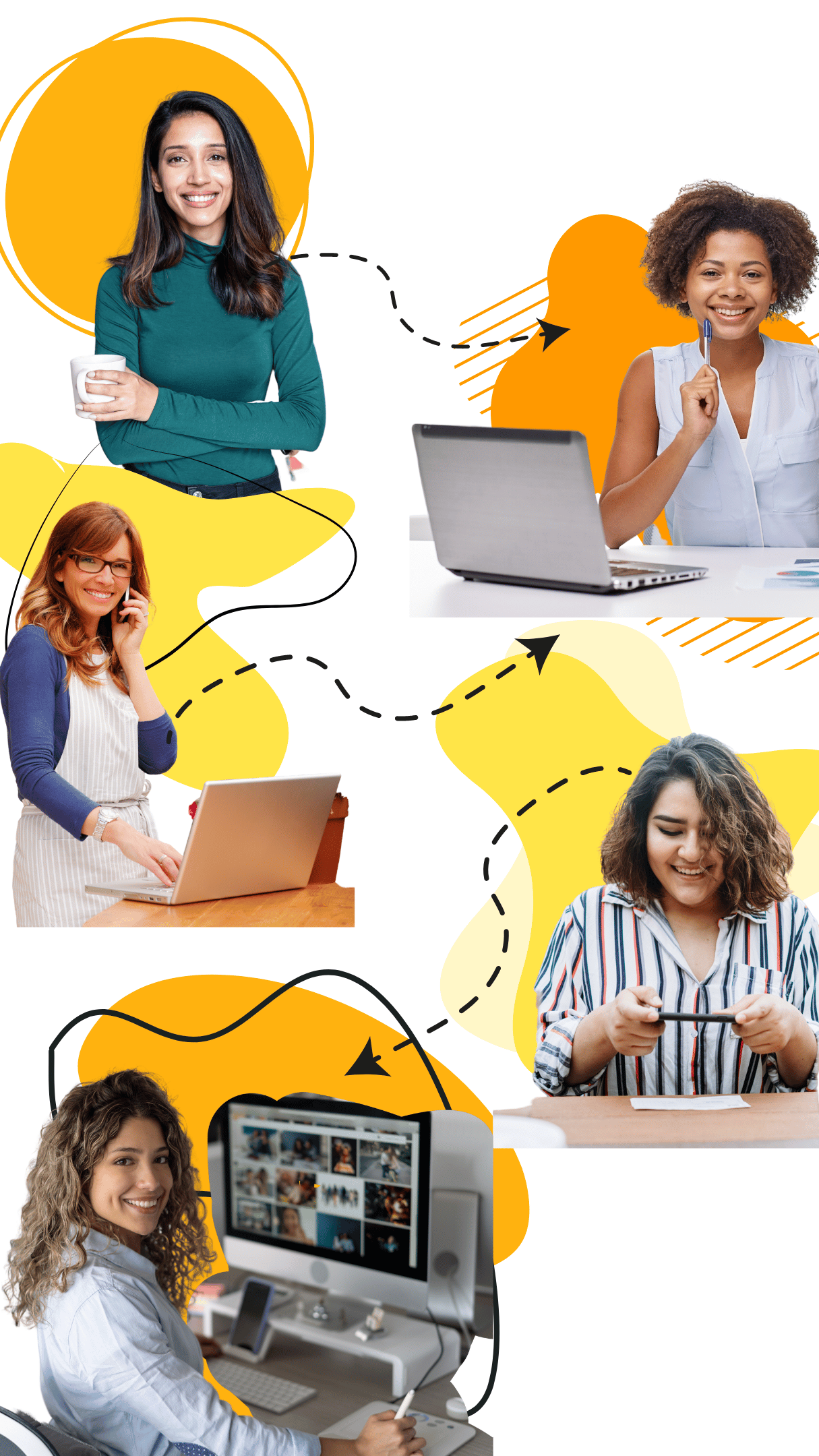 You're here because you're doing all the things for all the people, and it's overwhelming.
The last two years have caused many brick-and-mortar stores to pivot to digital sales. There's more noise and more competition, but still plenty of room for you! The key is to understand your ideal customers, anticipate their needs and show up with custom messages at the right time.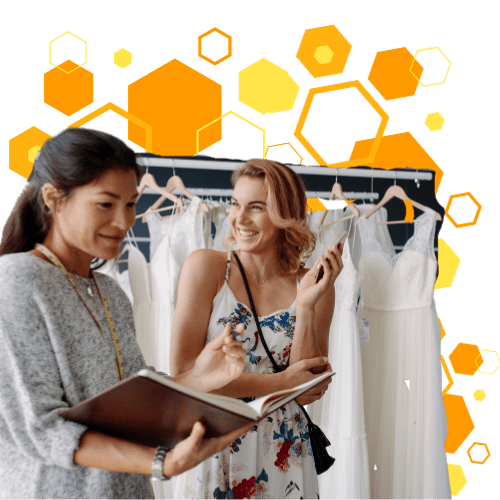 Each customer is unique, and you need to understand them and their needs – but it's easier said than done. Every marketing channel has a way to get captivating messages right where they need to go.
Siloed marketing with varied messages on each platform and sporadic posting makes it difficult to reach your ideal customers and gain their trust. 
That's where tried-and-true marketing systems make a difference!
With purposeful writing and automation, you'll be able to market your products to the customers who are most likely to buy – which means you aren't wasting time doing all the things for all the people.
Outsourced Marketing is a Gamble.
Marketing is too complicated to manage without some guidance. Experienced marketing specialists are expensive, and you'll still never be able to get everything right.
We all know the consequences of marketing missteps. Lost leads, lost revenue, and poor branding are the expensive consequences of outsourcing gone wrong. If you can't get it right yourself, how can you expect an outsider to do better?
With the Marketing Momentum Program, we'll work together to focus on the marketing you need to grow and create systems to help you manage it – and arm you with marketing best practices to help you make great decisions based on your business goals. 
You bring your business smarts, I'll bring my proven marketing system.
"What am I doing wrong?"
Do you find yourself second guessing your marketing decisions? You can't afford to make the wrong ones. It's time to invest in yourself, your products, and your business. Forget about expensive seminars or boot camps. There's no time to waste when you're drowning in work.
Imagine no longer having to spend hours or days looking for marketing ideas because you have all the tools you need to execute your marketing plan!
Marketing Momentum Program
A comprehensive system + strategy with actionable ideas to build your brand month after month –
and give you more time back in your business.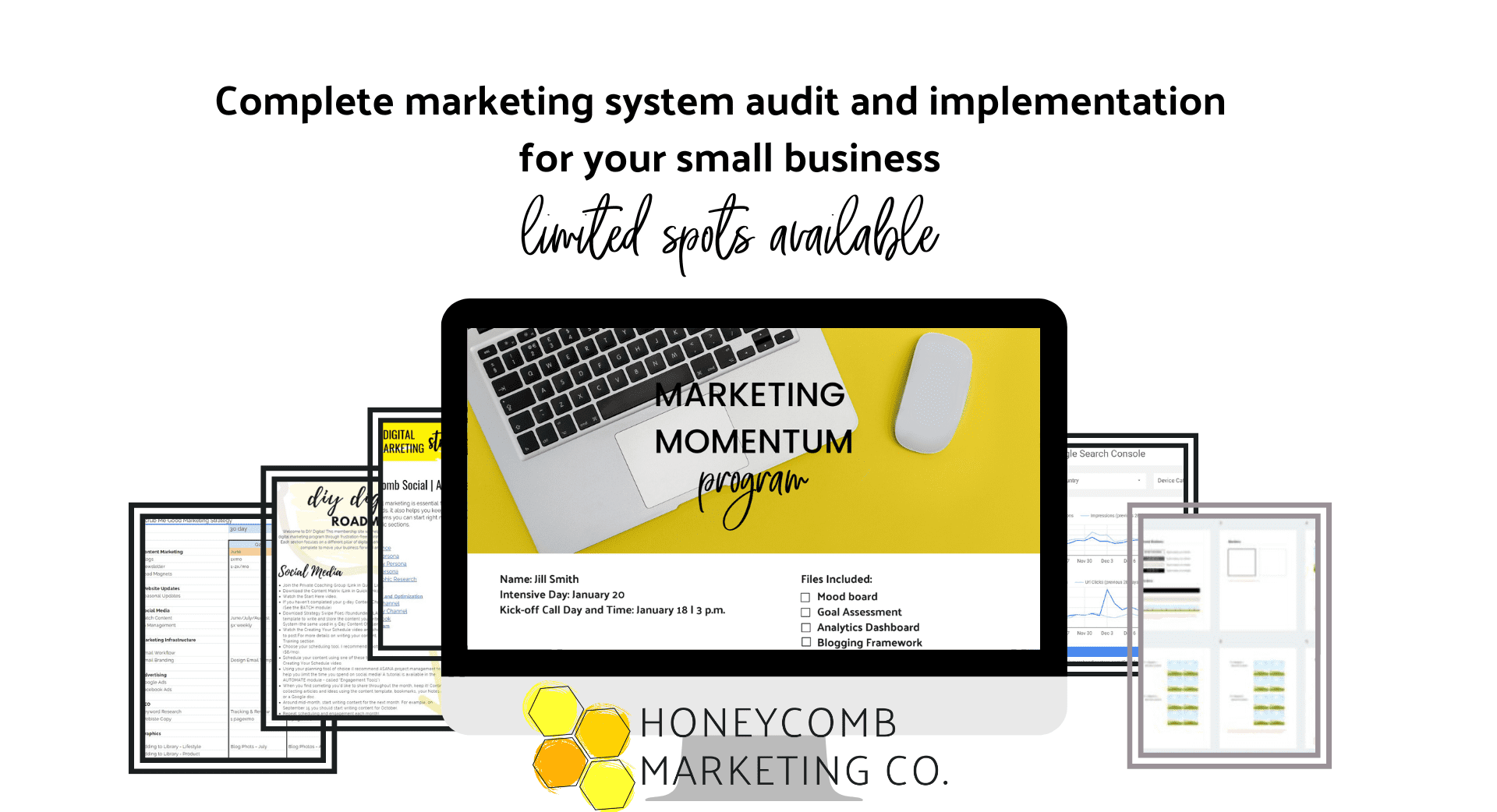 Together, we'll work step-by-step through planning, outlining, systemizing, and evaluating your marketing using a proven framework to build your brand –based on modern marketing best practices. After your marketing system is built out and optimized, you'll have operating procedures and instructions, templates, and style guides for actionable monthly marketing that will take your business to the next level.
Why Marketing Momentum Program is different.
You can't afford to make the wrong marketing decisions. With this premium service, you and I will work together to develop systems for your business. The package includes quick wins to jumpstart your momentum, weekly calls, and full support and training for 60-days after your system is complete.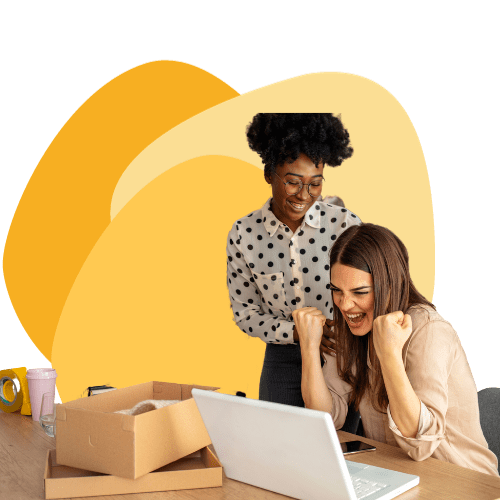 Based On 20 Years of Marketing Experience

Guided by your intimate knowledge of your business


Ready to implement in 90 days

Completely customized for your goals

1-on-1 priority support during your program 
My Marketing Momentum Program is perfect for business owners who understand where they want to go with their marketing but don't have time to create a plan and set up the tech – and need a simplified system to tackle DIY marketing month after month.
e-Commerce Owners Looking to Grow
You've started your product-based business but want to take it to a new level of success.
Small Marketing Team Leaders
You're a team of one looking for an outside perspective on marketing and a simple system to manage it internally.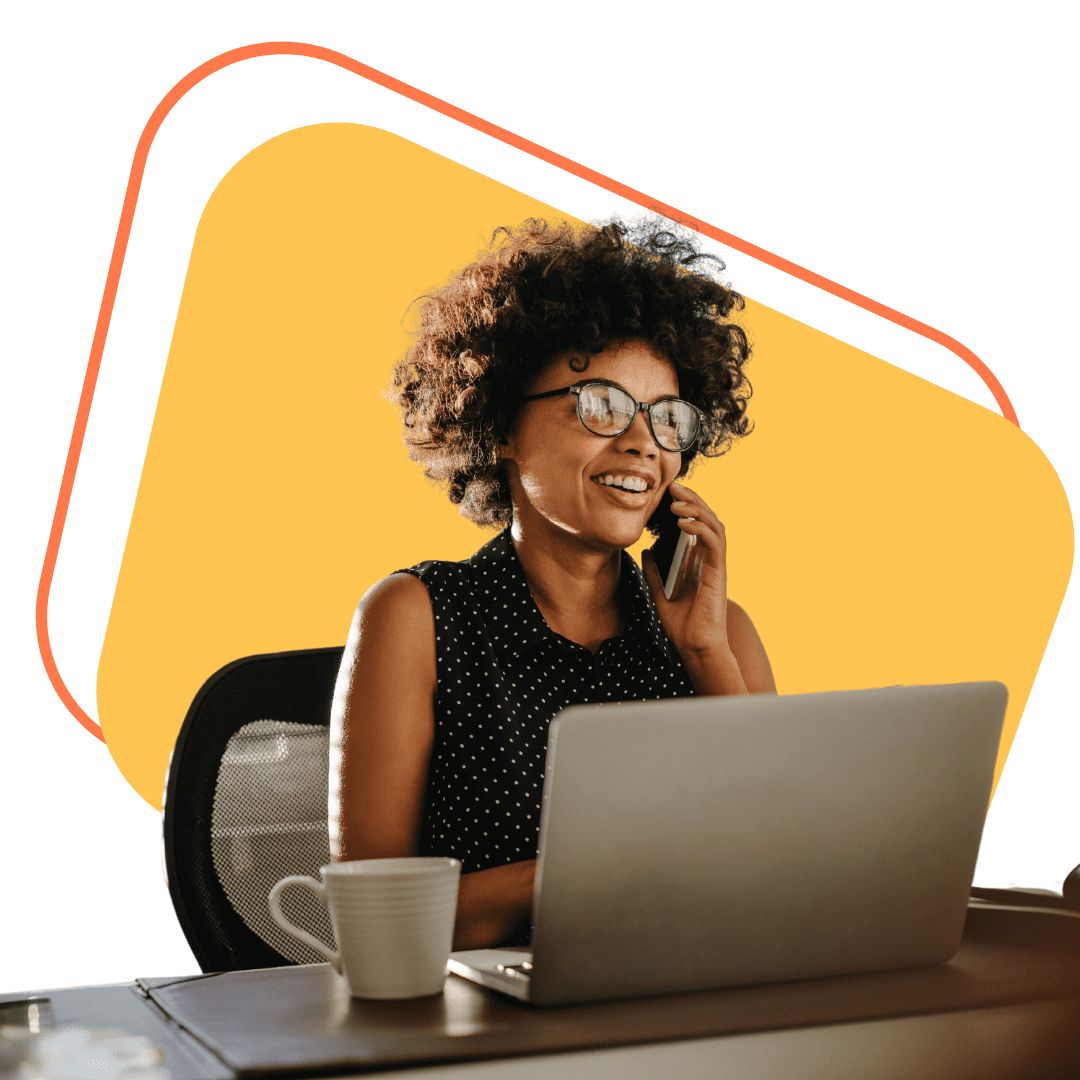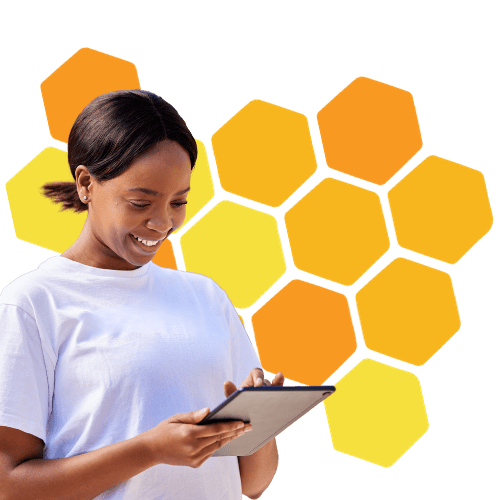 Non-profit Leaders
You run or manage a non-profit with limited time and money for expensive marketing agencies.
Start-up Entreprenuers
You're an entrepreneur with a great idea and need a complete marketing system to launch.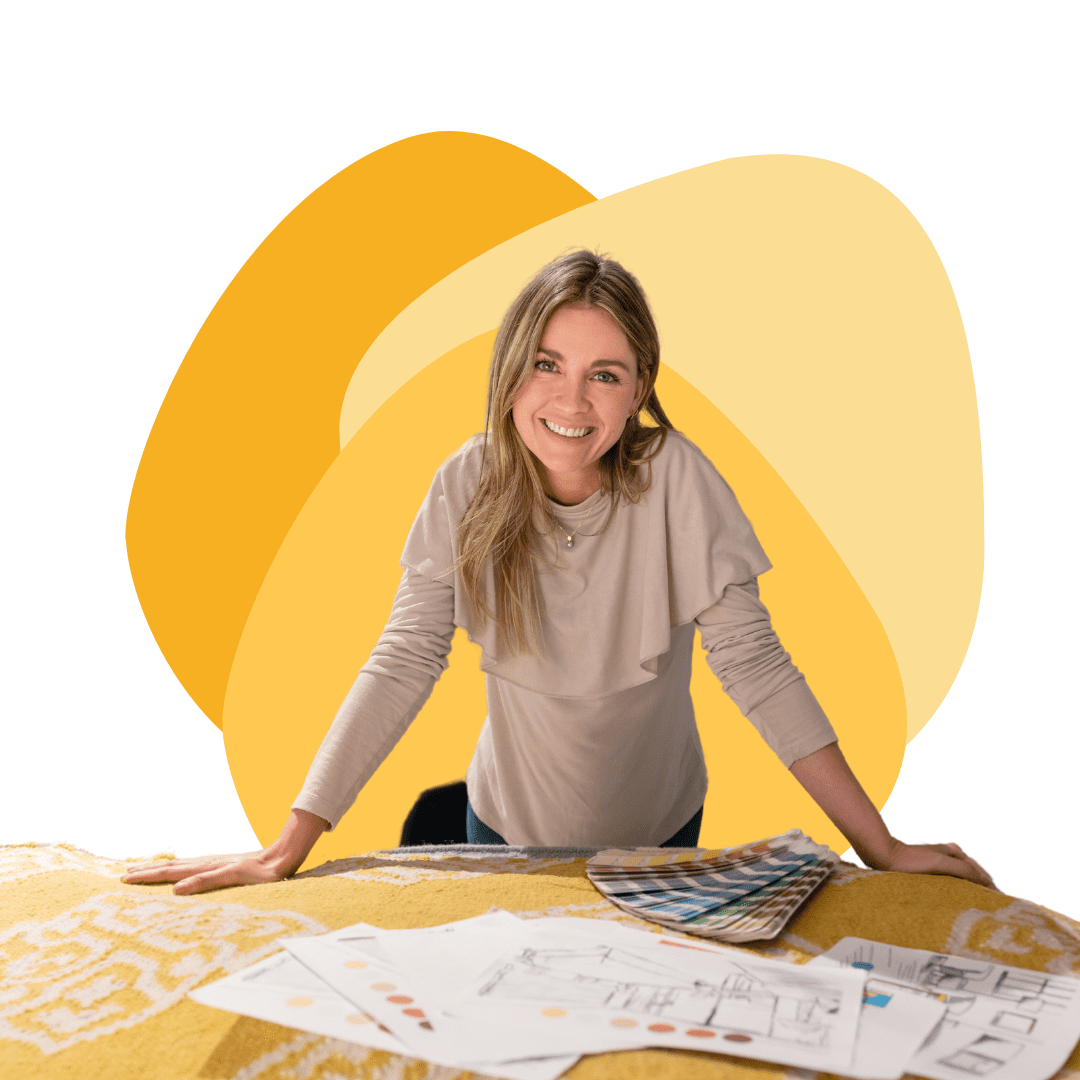 Clarify your goals and market with confidence.
During this 90-day program, we'll work together to define your business goals, clarify your branding with a mood board and templates, and create a system to batch, post, and analyze your marketing each month using my time-tested framework.
Our time together starts with a kick-off call and "homework" for you, including some pre-work to help me understand your business and goals. 
We'll work on the following:
Audit of current marketing
LIVE TRAINING WITH RECORDING 
Checklist with 7-10 Quick Wins to implement immediately
SOPS, TEMPLATES, TRAINING MANUALS + MORE
Marketing System Strategy with F.A.C.E. framework
PRIORITY EMAIL AND TEXT SUPPORT DURING THE PROGRAM
Content + Social Media Strategies
Audit of current marketing
30-, 60-, AND 90-DAY CHECKINS
Total Investment
$12,000
in 4 payments of $4,000
$6,000
or 4 payments of $1,500
Special Beta Pricing
Limited Spots Available This Month
I only have two spots available before the end of the year (and when the price doubles)!  With my proven expertise, I will show you how to outshine your competitors and stand out from the crowd with an extraordinary marketing system that will help you grow. In just one day, you'll have an amazing new marketing strategy that gives you a clear path for success. I promise you'll be glad you invested in yourself!
Seat on Canva Pro
Design social media posts like a pro and access my Canva templates.
Complimentary Course Access
Immediate access to DIY Marketing Academy.
Priority Support
Three months of priority email support from me!
meet your marketing bestie
I'm Amanda, celebrating 20 years as a marketing "Jill-of-all-trades." I have worked as a team of one for nearly my entire career and developed my marketing framework thanks to years of trial and error, continuous learning, and incredible work experiences.
I have found my passion in coaching and consulting other women running their businesses, raising kids, caring for parents, spending time with their spouses, and trying to maintain their sanity. I believe in marketing that's smart, simple, and affordable.
I am a Hubspot Certified Inbound Marketer, creative copywriter, and self-professed word-nerd with a BA in Journalism and an MA in Communications.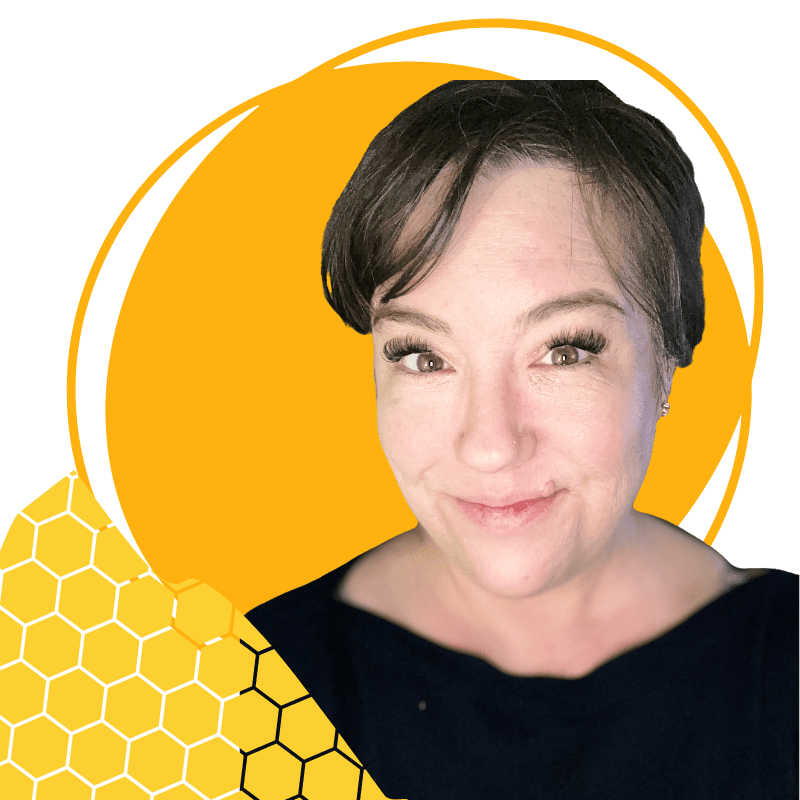 Schedule a
discovery call
to see if the
Marketing Momentum Program
is right for you!