Plan. Batch. Automate. ASsess.
Take the guesswork out of social. This special is just for you!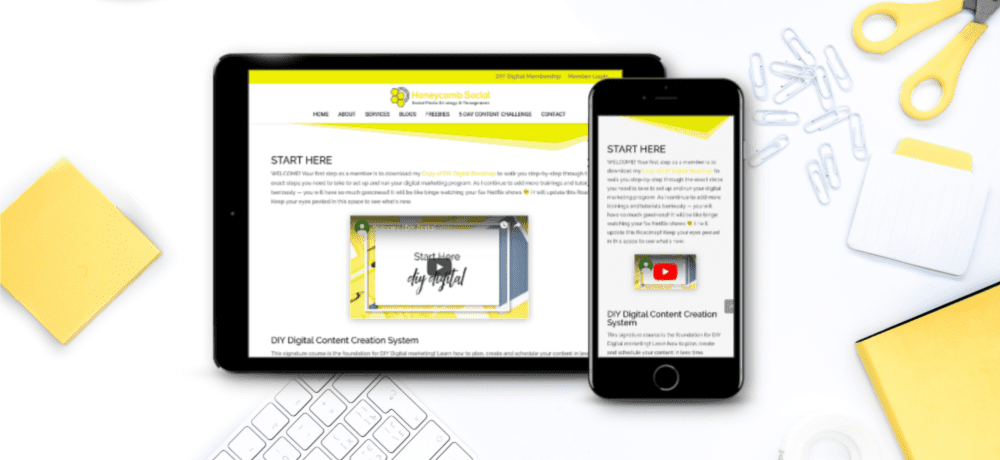 Simplified Systems Designed by You
Create a thriving business online without fancy apps or high-priced consultants — just need a system that speaks to your specific audience. This membership site walks you through planning, batching content, automating your workflows and assessing what works monthly — in simple, easy-to-follow steps.
Can you relate?
"Nobody opens emails when I send them!"
"I can't keep up with Facebook's changes."
"My budget is too tight to hire someone for social media."
"I'm spending all my time online and missing time with my family."
 Let's change that! DIY Digital helps you streamline and automate your digital marketing lead generation and communication so you can enjoy your business even more.
you are not alone
When  I started my career as a digital marketer (back when Facebook was only for college students!) I was tasked with helping other departments — many of whom did not have the time or money to spend on social media — manage and maintain their online presense with little time and no budget. The systems I created have helped more than 500 entrepreneurs systemize and automate digital marketing. You don't have to have previous marketing experience to make digital work for your business.
There's a better path to small business success.
It starts with you.
Through video training, step-by-step instructions, templates, group coaching sessions and challenges,  the DIY Digital Member Site will explode your direct sales or small busines  — more parties, more sales, more amazing relationships — by being YOU! Learn how to reach cold audiences and generate leads using traditional digital marketing techniques while sticking to a small — or non-existent budget (read: FREE) !
Partnering with me will give you access to the same systems I used to grow my own direct sales business through digital marketing. With the training in this member site, you'll learn to: 
Discover your Unique Selling Point
Identify your Perfect Persona
Grow your VIP group
Build a lead-generation machine that runs on auto-pilot!
Nurture relationships
Find new, untapped markets
Setup email automation to stay in touch with your leads
and so much more!
1:1 Consulting + Support
You'll get unlimited text, Voxer and email support and advice from me.
Success Roadmap
Fine-tune your message and audience, discover where to find new leads, and get where you want to be in record time with weekly challenges and accountability.
Private Group
Tune in to LIVE training videos and access exclusive templates and resources in my private Mastermind group.
Scheduling Assistance
Learn when, how, and where to schedule your posts for maximum influence.
Downloadable Resources
Swipe files, templates, done-for-you messaging and email sequences and more.
Lead Magnet + List Support
Unlock the power of lead magnets and email nurturing with tutorials for setting up landing page for your business, email nurturing swipe files and more.
When You Know, You Grow
DIY Digital will help you build and manage a lead-generation machine with a little help from your friends. Questions? I have answers:
Month-to-Month Pricing
DIY Digital has month-to-month pricing and no cancellation fees! Just pay $1 for your first month (regular price is just$19).
Weekly Prompts + Prizes
Accountability is key! Weekly prompts, support, and homework keeps you on track. The incentives don't hurt, either.
Easy-To Understand Content
All my content is presented so that anyone — even if you've never tried any type of digital marketing — can be successful!
WHAT MY MEMBERS SAY
I've helped a variety of awesome entrepreneurs find more consistency and joy in their social media marketing!
"[The training] forced me to really think about engaging with my followers in a meaningful way so that they trust and connect with me and my product. "
"Her approach guides you in identifying exactly what it is you desire to communicate, aligning with your mission, and then implementing the most effective techniques to connect with your audience! I feel significantly more confident…a huge load off my shoulders!"
Don't miss out on another lead.
Join DIY Digital today and start finding more customers online.